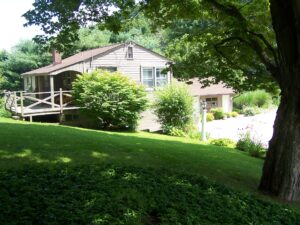 The Cornwall Inn, echoing the spirit and style of old New England, is a family-owned country inn located on three lush acres, including outdoor pool, hot tub and rambling stream.  The Main Inn houses two lovely common rooms available to guests at all time and a seasonal screened-in patio.  See PHOTO GALLERY
The 13 nicely appointed guest rooms all have private bath, air conditioning, telephones and free wireless internet access. A hearty continental breakfast is served each morning.
The Main Inn was built in 1821. The first floor includes a private restaurant and tavern, the Gathering Room and the Breakfast Room.  The second floor includes four classic Bed & Breakfast rooms and a two-bedroom suite. The Country Lodge (shown left) is a separate building with eight rooms, six at ground level. Each room has its own entrance.
Husband & wife team, Mark Hampson and Stacey Marcin, searched for two years and visited 36 inns from Maryland to Maine to find the perfect place to fulfill their dream of owning and operating an authentic country inn while raising their young family.   Thirteen years later, they still love the choice they made!  Former bed & breakfast owner/operators from Philadelphia, Stacey and Mark have breathed new life into the charming and spacious accommodations while retaining the antique charm of the Main Inn and the casual comfort of the Country Lodge.
See What our Guests Have to Say:
From our Overnight Guests
"We had a wonderful relaxing and rejuvenating night. We will return."
"The Cornwall Inn has been everything I imagined it to be–quaint, comfortable, charming and fun! Look forward to returning next year during the Litchfield Jazz Festival."
"Quaint, comfortable and cozy. We thoroughly enjoyed our stay at the Inn. The hospitality of you and your staff was most cordial. The food was excellent. The rooms are very comfortable and affordable. Thank you."
"A lovely place, ultra clean, friendly and hospitable."
"Very nice accommodations–great shower! Very good breakfast–I'll be back again and recommend you to friends!"
"Couldn't be better…ambiance and the friendliness can't be beat."
"Excellent service."
From our Private Event Guests
"Thanks to you and your husband for providing us so graciously with a lovely luncheon yesterday. The atmosphere was so welcoming and relaxed and the food was delicious! You make entertaining look so easy"…board chairperson, lunch for 10
"Wow, you have far exceeded our expectations"…parents, bar mitzvah for 40
"You made us feel so at home. The NY strip steak was the best we have ever had!"…groom, wedding dinner for 12
"How relaxing to have the whole restaurant to ourselves and not worry about disturbing other guests."…mother of the bride, wedding lunch for 40 including 8 young children
"You have gone above and beyond the call of duty."…mother of the groom, rehearsal dinner for 30
"The best baked egg casserole, EVER"…guest, wedding luncheon for 36
"This cozy and relaxed atmosphere was exactly what we wanted."…organizer, South Kent class reunion dinner for 12